Commissions!
Let's do it! Happy to be at your service and create something with you. I accept commissions for portrait photography, paintings, and videos. I am thrilled to take a vision and bring it to life, be it personal, family or conceptual. My passion is for creative expression with people.
Portrait on left by Maks Dikarev

Painting Sessions

There are a couple ways to go about this!

1. I work classically by using taking photo references. This also makes it easier if we are working with a family, or couples, or if you want a wide variety of opportunities to pick from! It allows these to pick through the best images together at the end of the session. Additionally, the edited digital references that were not used will be available for you to keep for yourself. Usually the reference shoot will be two hours or less.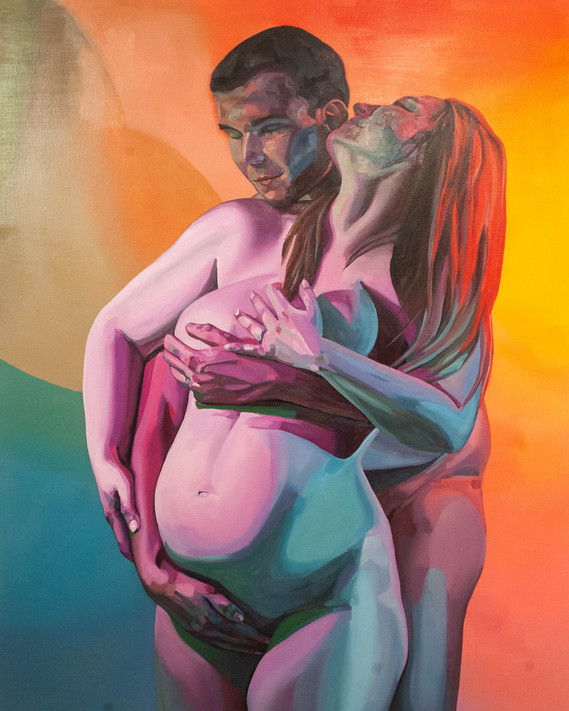 This is the final product from creating with this wonderful couple last year.
We talked on facetime to first discuss what the game plan was and what they conceptually wanted to achieve their painting "Lilith".
Above are some sketches I made personalized to them and the exciting ability to paint someone pregnant! Its always nice to have an idea of our game plan for the shoot day.

These are some examples of how the process will generally be when we have the opportunity to work together.
If this is a piece for you, or involving others I look forward to what we come up with!

2. If you would like to go a retro approach, and would prefer to do a live sitting, I would be more than happy to make that accommodation as well. Generally those take about 4 - 5 hours with many breaks:


I will have the background painted to start.

We decide on the pose and what accommodations needed.

Bring in the necessary pillows and yoga mats for your comfort.

Spend a day painting together!
Both with classical and retro approaches, the size of the painting will decide the quote. All prices quoted include cost of paining, time, materials and travel / studio use. Shipping will be discussed separately if not local to Seattle.
Photography Sessions

I am an experienced colorist, and create unique colors and expressions using studio lighting.
The longest occupation I have had in my life was as an art model, I understand posing and know what it's like to be in front of the camera! I guide my models to their most artistic expression with care and empathy.
I work in studio, and have available my own for photo shoots by the hour. Depending on location, I am available to travel as needed and can offer guidance on appropriate locations and studios.
The photo shoots generally last 2 -3 hours at most.